Posted on
By Robert Arthur

The newest developments in OLED technology were eagerly anticipated at this year's Light and Building show in Frankfurt. Could the latest technical advances and changes to the cost of panel manufacture finally allow the predicated breakthrough into the market?
Light and Building 2016 was host to four OLED Technology manufacturers, all demonstrating the capabilities of their products to an impressed audience. Those with OLED on show were:
OLEDWorks
American OLED-pioneers, OLEDWorks, took over the OLED division from Philips last year. On display were a wide range of products including their impressive Brite FL300 panel family with a luminance of up to 8300 cd/m2 and a luminous flux of 300lm.
Pioneer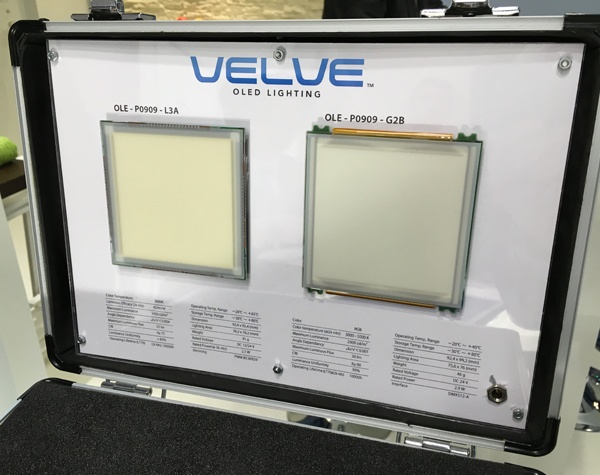 New at this years' exhibition were Japanese makers, Pioneer, who recently took over the Verbatim range, formerly part of Mitsubishi's OLED business. Pioneer were exhibiting the only colour-tunable OLED module currently on offer on the market. The modules are available in white or RGB , with integrated DMX-controller for seamless colour adjustment; a feature that will attract many architects and lighting designers to its wide range of installation possibilities.
Sumitomo
Fellow Japanese chemical manufacturer, Sumitomo, were also in attendance demonstrating their OLED printing technology. Their technology will pave the way for the better development of OLED for a mass market. Rather than using the more common vacuum deposition technique, Sumitomo use printing to establish a layered structure within the OLED. The OLEDs, available both as a panel or as a finished module integrated case, come in variety of colours. As opposed to the variants exhibited at the last Light and Building in 2014, Sumitomo's new panel generation have improved durability and lifetime.
LG Display
A particular highlight of the OLEDs on offer was the exhibition stand from LG Display in Hall 6.2. Similar to their previous demonstrations in 2014, LG Display focused on the recent and further development possibilities of OLED. For example, the first commercially available 90lm/W series was on show. Also, the existing wide range of rigid modules on glass substrate is now available on the market with an improved lifetime of L70 from 30-40k h. In addition, LG Display can boast the first commercially ready flexible OLED panel with plastic substrate. The latter are already available with the improved life expectancy of 20,000h (L70), another interesting first! Next to a host of diverse OLED design options and demonstrations, LG Display also presented the Sky and Classic lamps and other completed applications, whose beautiful design and excellent value for money will be attractive for the end use market.
Conclusion: Compared to the dominating LED Technology, OLEDs are still viewed as niche products in the lighting market. Nevertheless, technical developments and hugely improved cost structures are making OLED an ever increasingly attractive source of light.
For further information about any of the products or manufacturers mentioned in this article, or if you have any general questions surrounding OLED, our team at Organic Lights will be happy to help. Contact us at shop@organic-lights.com.